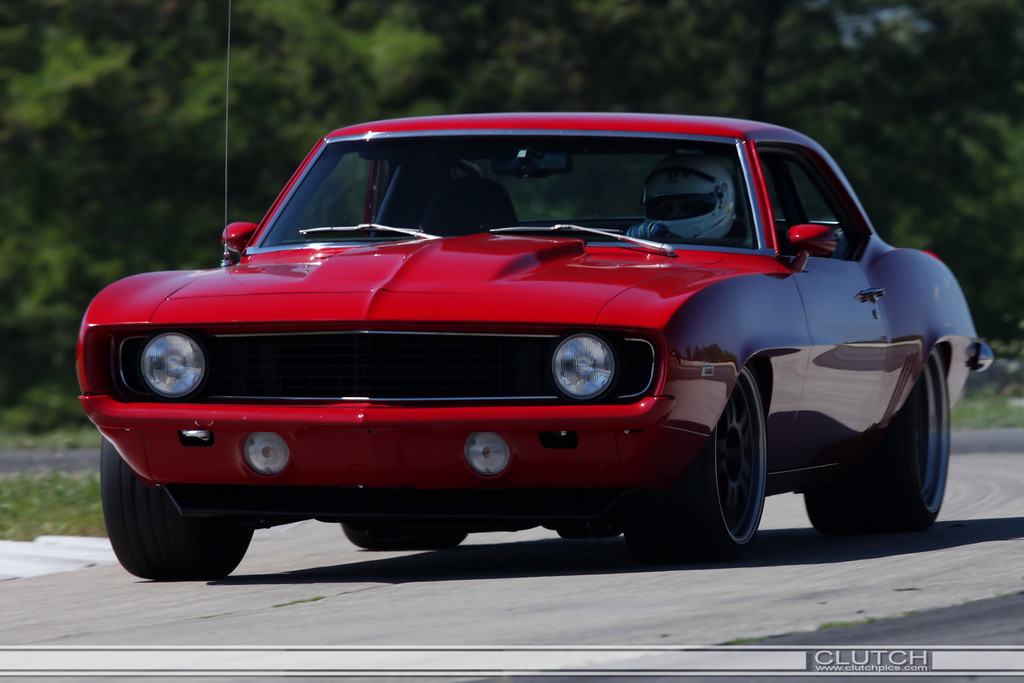 ---
Text courtesy of Car and Driver
The Red Devil is No. 11 in a series of  '69 Camaros massaged by Stielow over the past 23 years. To the casual observer, it's a survivor that rolled off a GM assembly line the year mankind made its giant leap to the moon. But don't be fooled: This Camaro packs double the ammo provided by the General back in the day, along with the chassis fortifications needed to taunt the bluebloods from Stuttgart and Maranello.
Proving that he's seriously hooked on speed, Stielow loaded the Devil's engine bay with a sinful combination of LS7, LS9, and aftermarket power parts. His 7.0-liter Corvette Z06  block is topped with a ZR1's cylinder heads, valvetrain, and supercharger. Inside, the best catalog parts money can buy are force-fed 12 psi of  boost by an Eaton TVS supercharger spinning 30 percent faster than stock.  A Tremec six-speed transmission sends an estimated 756 horsepower back to a 3.25:1, nine-inch solid axle fitted with a True­trac limited-slip differential and located by a Detroit Speed suspension system. That same vendor also supplied the hydroformed subframe, the front suspension, rack-and-pinion steering  gear, and coil-over dampers fitted at all four corners.
For the complete build thread with pics and tech info go to Lateral-G.net.
---
---
---
---
---