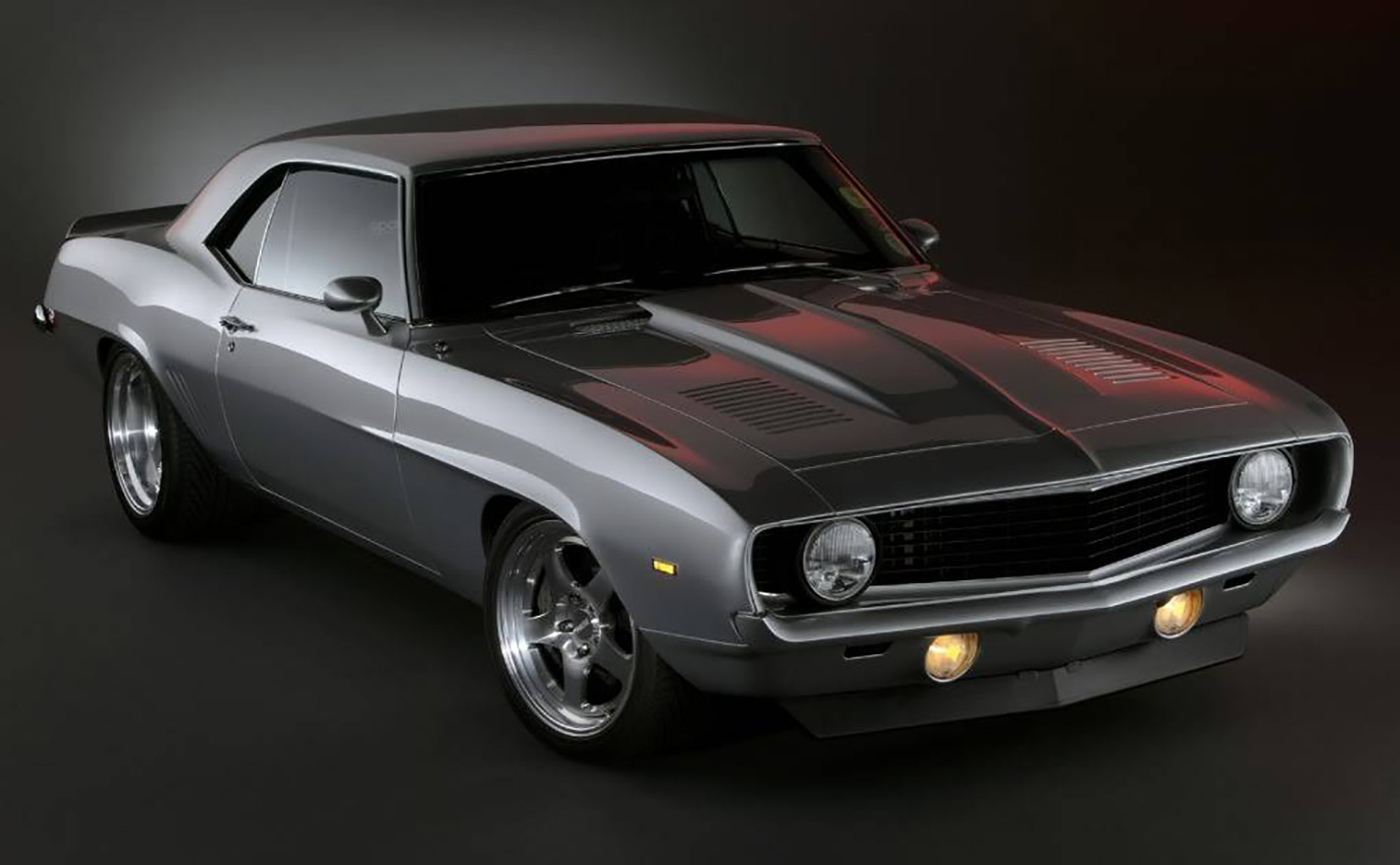 ---
Editorial courtesy of Street Muscle Magazine.
When the Mule made its debut Stielow was quoted by Block Performance saying "at GM when [they] have a development property, [they] typically call it a 'Mule' property. So, it was supposed to be a test vehicle for a bunch of ideas [he] had."
It has been confirmed the car has been studied by other GM engineers in the design studio while they worked on designing the new Camaro.
The term "Pro Touring," is another one of Stielow's creations. It refers to a style of classic muscle car with an enhanced suspension, brakes, and drivetrain, but that mostly retains its original external appearance.
The Icon Is Born
Many of the customizations to the Camaro are not visible on a first glance, hence pro touring. The entire body of the car is fitted with a discreet roll cage that is seen in the engine compartment, behind the front seats, and all the way back to the trunk. Embracing factory lines, the cars exterior is mostly stock but with closer inspection the hood has been customized to make space for the massive air intakes below.
In 2001, during the build of The Mule, most cars had a leaf-spring and solid-axle combination for their suspension. Stielow created a rear suspension with a four-link axle with coil-over springs for better shock absorbency and overall handling. The biggest difference between the two is that not only does the coil-over system disperse the workload better, but it is also adjustable for a harder or softer ride.
With Pro Touring in mind, an Art Rasmussen subframe reworked by Stielow with power rack-and-pinion steering and a Currie aluminum 9-inch rear.
Under The Hood
The most impressive part about this car is its engine- it is designed to either take to the store or take to the track without drawing too much attention. It is powered by a custom twin turbo 389cid aluminum small block Chevy rated with 1,021hp on an engine dyno. To manage those big horsepower numbers the build features electronic fuel injection, adjustable boost knob to allow you to run on any octane gas, a reworked six-speed Viper transmission, and four-wheel disc brakes.
There are custom-made elements throughout the engine compartment that reflect his incredible craftsmanship and engineering background. Tucked away are custom-made aluminum shields protect the roll cage and the cool-air intake from heat from the neighboring twin-turbos and headers. Stielow also custom-made all of the brackets found throughout the engine compartment.
Echoing the factory aesthetics theme, the interior was left almost entirely stock except for the 5-point bucket seats and a custom gauge cluster for racing. There is a small light on the tachometer that turns on when the driver should upshift in a race. This is so the driver can keep their eyes on the road without harming the engine.
Build Specs:
Configuration: Custom twin-turbo-boosted front engine
Engine: V8
Displacement: 6.37L/388 cu. in.
Horsepower: 1,021hp at 6,800 rpm
Torque: 471 lb/ft. at 6,800 rpm
Max RPM: 7,500 rpm
Transmission: Viper six-speed manual
---
---
---