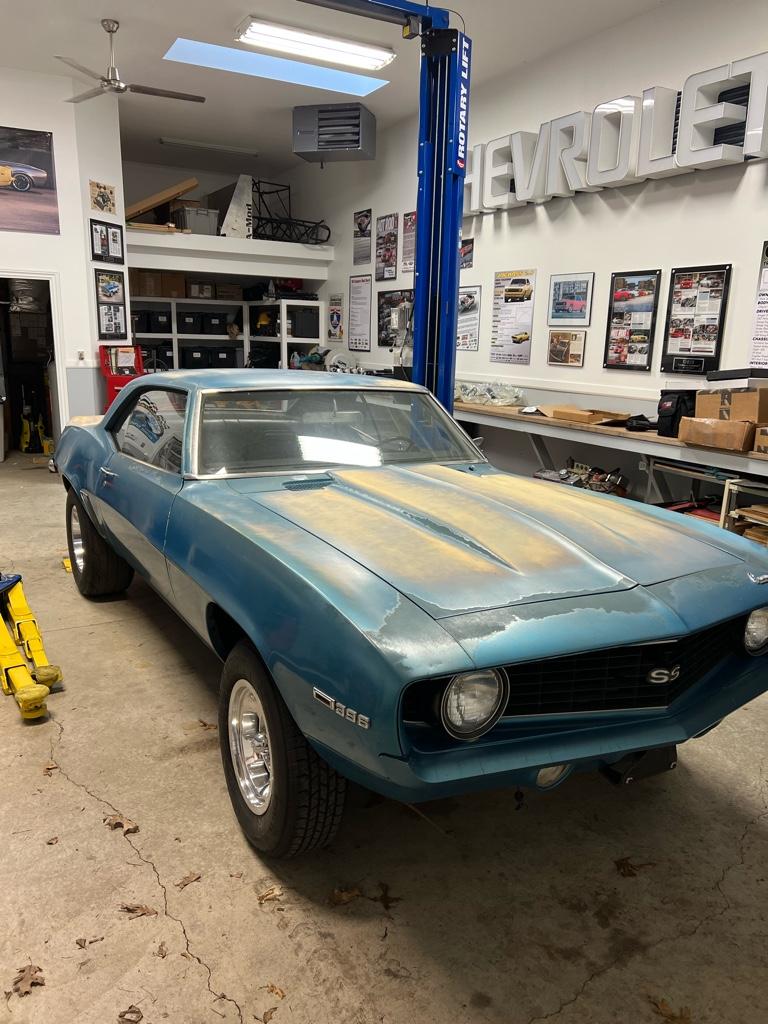 There are stories about cars finding you and this is one of those stories. A gentleman reached out to me on Facebook 3 years ago looking for a patina 1967 Camaro like Gordan Rojewski's '67. I told him I did not know of any but that I was looking for a patina '69 Camaro. He said he had one but would never sell it. Well last year he sends me a message and said he wanted to sell his Camaro. I said great, can you tell me about it? He said he had the car for about 3 years and it was on old drag car.
The car was ordered new in 1969 by Vic Hobbs. He ordered a Marina Blue SS, with a 325 HP 396 CID Engine, black Interior, 3 speed Auto, cowl hood, endura bumper, rear spoiler, 4.11 gears and radio delete.
The car was raced since new and was never titled for the public road until 2007.
I was busy racing and traveling a lot last year and thought the car was cool and arranged to buy it less engine and trans because the stock driveline was long gone and I had no need for the 496 BBC that was in it. He said no problem because it was not running anyway. We negotiated a price and he offered to deliver it to Milford, MI.
He shows up at my house and the car was super clean and as described. The he starts dragging out all the documentation on the car. All the original build sheet, dealer delivery sheet, and a ton of other docs.
I'm looking through the stuff and the documents and then looked in the car. The ODO showed 1277 miles.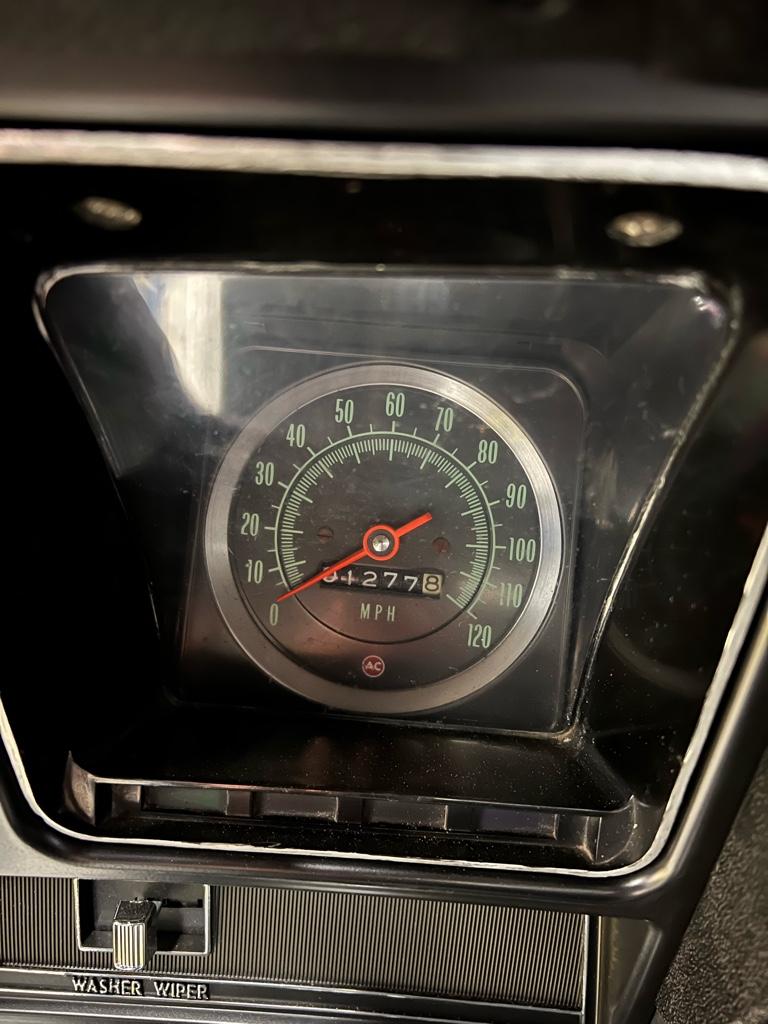 Check out this mini tub job from a long time ago.
Car sat unloved in the desert in CA for a few years. The car had a crazy paint job in 1969 then was re-painted in the 80s in it's original Marina Blue. Here are photos of it when it made it to TN to the gentleman I purchased it from.
I got the car to my shop last summer.
The vision on this one has been all over the place.
The first plan was a stock subframe, leaf springs and a wet sump LS7. Kind of an over the fender build, quick and cheap. I struggled with the cars history and what to do with it. A couple of the past owners did just that. I am attempting to get the rest of the cars history. It is clear it has had a lot of engines, transmission and driveshafts in it. It has had a rough life.
Once we got the car to Sled Alley and really dug into the car its rough history came to light. The rust free floor pans was bent up so bad that the seat pans were bent and the transmission tunnel had a dog leg in it. After a lot of discussion with Matt at Sled Alley he convinced me the best way to get the car back straight again was a new floor pan. Crazy to cut out a rust free floor pan, but this is what we did. He convinced me it would be quicker, cheaper and better.
The next area to fix was the pop rivet "Mini Tub" job. After measuring everything up it looked like to easiest and best way to fix it was just do a full DSE Quadra Link and Mini Tub inner wheel houses. The DSE larger inner wheel wheels barely filled in the old cut outs. The Quadra Line cross member fixed the old odd shock holes in the trunk.
At this point is where my "cheap over the fender build" went out the window. We were into a full build. Might as well fix it and make it the way I want.
I like to take my cars to the track. I love the way my old Camaros drove and looked. I've always been very happy how the DSE front subframe worked, so we swapped to the DSE sub frame.
This is where the scope creep really started. Well if we are going to do a DSE chassis we should make it fully track capable.
The plan as of now:
• Keep the patina paint but fix the chips and minor damage.
• The car is 99% rust free
• Paint the floor pans and the engine bay to look crisp and clean
• Stock LS7 (Z 2/8 Spec) with fake BBC valve covers.
• Air cleaner that connects to the stock hood – stockish looking
• Stock BBC heater box but with Vintage Air
• Dry sump system
• T-56
• Stock looking semi-custom Dakota Digital dash
• Brakes
• Keep the stock 12 bolt
• wheels 18X10 front and 18X12 rear
• ABS
• Recaro seats
Kind of like my last builds but a little less power to keep the BBC look under the hood. I also want to try to make it quiet. I loved Apex, Gunner, Jackass and Hellfire but they drove me nuts on long trips. Too loud. My Blazer is old man quiet. I love it for long trips. On a side note none of my old cars would pass the sound check at my local road race track (Waterford Hills). My goal is for it to pass the sound level there.
I know the drag race guys are going to hate me for not keeping it a drag car, but I'm not a drag racer. We do this hobby to have fun. I'm going to build it the way I want it. I purchased the car because I loved the look of it with the patina paint, the factory endura bumper, the factory cowl hood and the rear deck spoiler. I did not really understand the history until I got it. The history is way cool but not the reason I purchased it. I'm going to fix all the cars past sins and make it better.
Sorry, but I love the look of a 1969 Camaro with 275/35R18 tires on the front and 335/30R18 on the rear. I'm going to pay homage to the history of the car by keeping the engine bay looking like a BBC and the stockish dash.
I like driving and tracking my cars so that is the way I'm going to build it. Here's some pics of the tear down at Sled Alley.
More updates. Cleaning the bottom getting ready to remove the floor pan.
Well we cut the floors out. Out with the old and in with the new.
With the floor pans straightened and replaced it is time to trial fit the Detroit Speed subframe and sheet metal. Need to square things up before subframe connectors, which the car should of had back in the day.
I've owned and driven a large number of Powertrains now. For pure joy of driving the best package I have ever had is the 427 LS9 built by Brian Thompson. We have beat the crap out of that combination and it just works for track, street and cross country cruising. Not a cheap date but very good. The best bang for your buck is a stock LT4. Very good linear power. Throttle response not as good, but fantastic drivability.
The 632 is pissed off. If you want to roll into the cars and coffee and have a penis measuring contest this is your clear winner. The 632 at work is very cool. My wife and neighbors are not big fans of the dual 4.5 exhaust on it needed to make 1004 HP as installed. The headers are also 2 inches stepped to 2.25… BIG HEADERS. It is a Pro Street or Drag engine. That valve train and oiling system would not be happy on a autocross or a road course.
For me I always like the flexibility of a blower motor. Docile idle, easy on the valve train and great throttle response. Also with the blower cars you can get away with a GOOD 3 inch exhaust system. It still pisses off your neighbors but you don't get a letter from the HOA.
On any car that makes over 900 hp the whole package is a challenge if you want to track it. The fuel system is not a joke. The cooling system needs to be stout. The clutch, trans, driveshaft and diff all need a lot of extra attention.
Big power is big fun and big money. I've been playing with them for a bit.
For this car I'm starting with a 2015 Z 2/8 spec LS7. The Z/28 program manager fixed a few critical issues with the LS7. The engine is a rock solid 525 HP in a hot rod. It should be brick reliable and very civilized. If I don't like the 525 HP, I can yank it out and drive over to Brian Thompson's and "fix" it.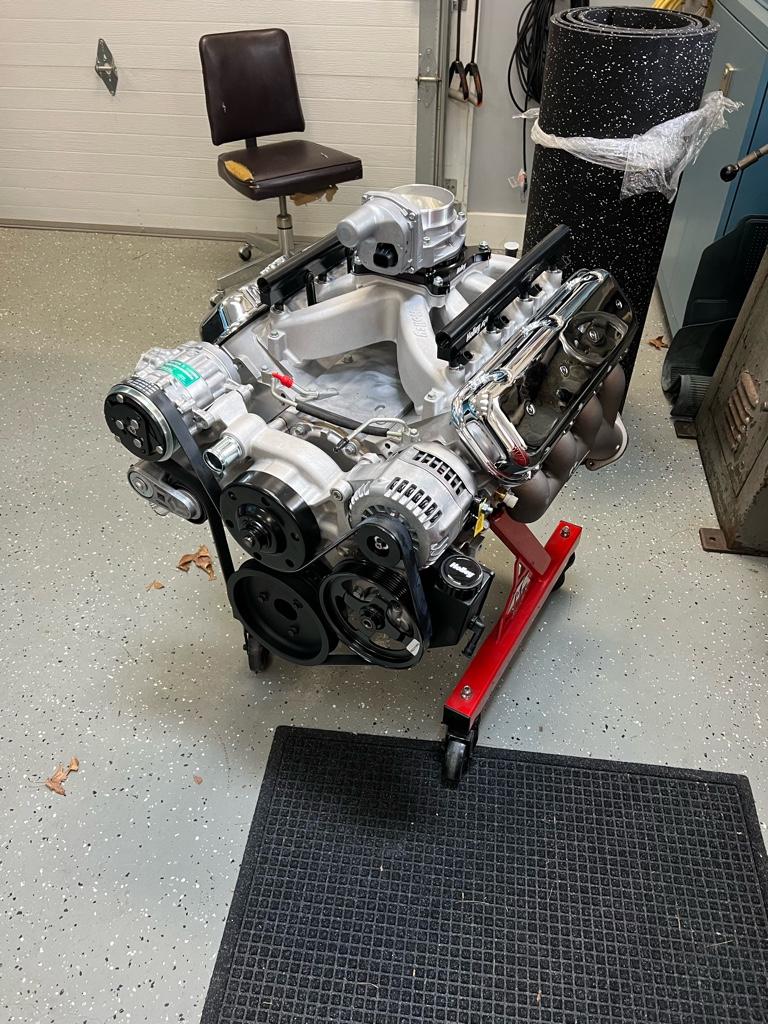 Sub Frame Connectors installed.
Mini-tub and Quadralink work
I decided to try the stock 12 bolt for this build. It had a crack in one of the tubs from all the drag racing. Matt fixed that and got it tuned up.
We have experienced a lot of issues with noisy Ford 9 inch rear axles. We put a Ford 8.8 in another build and it is quiet. I hope the 12 bolt works better also, time will tell. Added the DSE brackets and my axle ends for C6 hubs so I can add ABS. We weld on washers now to enable a clean wiring installation later.
Trunk braces and trunk repairs. I have no idea what was in the trunk that poked these big holes in it.
These are made out of 304 stainless steel. They make excellent tie down points and they won't rust. We leave them unpainted. A Sled Alley original product!
Makes strapping a car down very quick, safe and easy. Here's a few more random progress pics.
The number one question about my cars is "what is the wheel offset"? Over the years we have found it easier for the rear wheels to order the wheels then build the axle to fit. It is easier to modify the axle tube than it is to get new wheels.
I was going to use a retro wheel, but I could not get the brakes to fit. The crew at Forgeline did a lot of work to attempt to get it to work. For me form follows function. I really wanted a retro wheel but I think these look great. If I really want the old dog dish look I'll swap the brakes to sliders and order new wheels.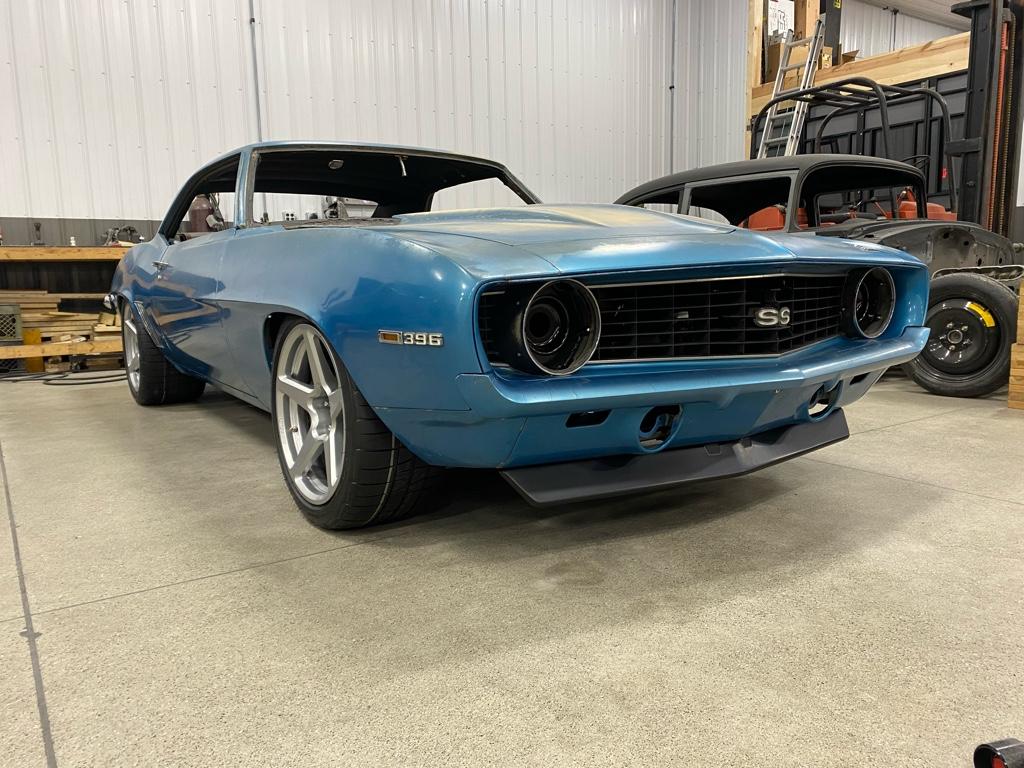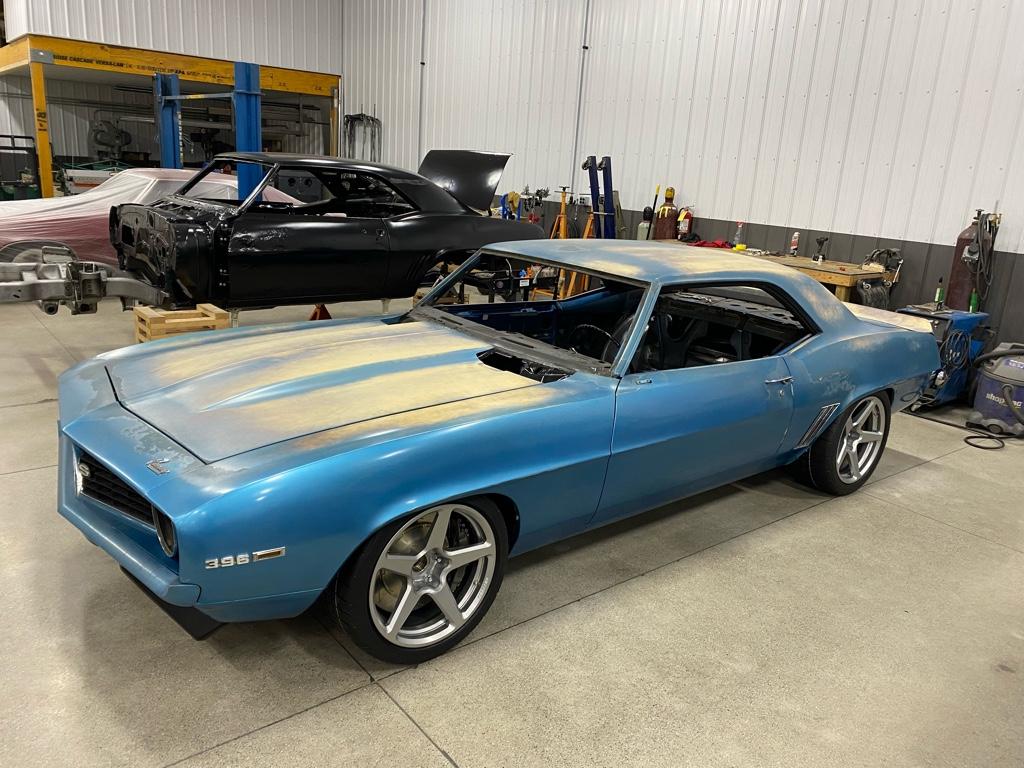 The Detroit Speed subframe works well with a 18×10 front with a 20 mm offset or 6.25 backspacing. The rear we ordered a 18×12 with the most backspacing that Forgeline could do in there forging. Off memory it as 19 mm offset 7.25 backspacing.
I think I will have 2 sets of brakes for this car. The track setup with the Brembo and Monoblock Forgeline wheel (Pictured below). To keep with look of the car I'm going to order new Forgeline OE wheels that will take poverty cap hub caps. For the OE style wheel I'll need to run stock C6 Corvette brakes. For just cruising around the OE black steel looking wheels will work well.
Matt is back to working on my car. He cranked on it to get it to my Car Party as a roller.
The only real rust on this car was the dash at the base of the windshield. I dislike the look of the repo dash top so Matt tuned it up to look more stock.
The repo speaker grill doesn't look right. Matt swapped the stock one back into the dash.
You can run "Big" or oppose piston brakes with the OE Forgeline wheel. It just pushes the center out board and make the center cap look odd.
See attached photos. The outer rim half is not very deep and IMO the center cap pushed out like this is not my preference.
---
Build Pics